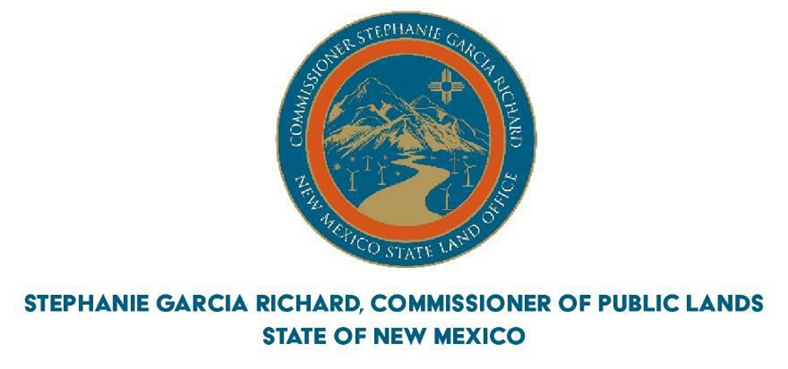 For Immediate Release
Date:
5/4/2022
Contact:
Joey Keefe, Assistant Commissioner of Communications
jkeefe@slo.state.nm.us      
New Mexico State Land Office Already Surpasses $1 Billion in Revenue for Fiscal Year
Office brings in monthly record of $204 million in April
SANTA FE, N.M. – New Mexico Commissioner of Public Lands Stephanie Garcia Richard today announced that the State Land Office has already surpassed $1 billion in revenue for state trust land beneficiaries in Fiscal Year 2022, which ends June 30th.   Included in the $1.15 billion earned to date is a record $204 million in revenue from leasing activities for the month of April 2022.  State Land Office earnings support public schools, hospitals, and universities throughout the state, and reduce the financial burden on taxpayers.
Oil and gas royalty earnings are reported with a three-month lag, so the $1.15 billion only reflects   oil and gas activities through January 2022 (seven months of the fiscal year). Prior to Commissioner Garcia Richard taking office in 2019, the State Land Office had never surpassed $1 billion in revenue during any fiscal year. With five months of oil and gas royalty revenue still not reported there is a possibility the office could surpass $2 billion for the first time in its history.
"Thanks to the hard work of everyone on our staff, we continue to rake in record amounts of money that directly benefits New Mexico's schools, hospitals and other foundational institutions," said Commissioner Garcia Richard. "We have made a concerted effort to diversify revenue streams at the State Land Office and continue to see promising results from oil and gas, renewable energy, agriculture, outdoor recreation, business leasing, and so much more. In a little over three years, we have nearly tripled renewable energy on state trust lands, provided affordable housing for senior citizens in Albuquerque, attracted major businesses like Netflix, expanded access for outdoor recreation – all while cleaning up and restoring more land than ever before. What makes this success even more exciting is knowing that we are saving the average New Mexico taxpayer $1,600 a year. We will continue pushing forward to achieve the best results for New Mexico's kids while maintaining state trust lands for the use and benefit of generations to come."
Royalties from activities like oil, gas, and minerals are transferred to the Land Grant Permanent Fund and invested by the State Investment Council prior to distribution to beneficiary institutions. Rental revenues from activities such as economic development projects, renewable energy, and agriculture are distributed directly to beneficiaries on a monthly basis.
Commissioner of Public Lands Stephanie Garcia Richard has overseen the New Mexico State Land Office since 2019. In that time the agency has raised over $4 billion for New Mexico public schools, hospitals, and universities. Over 13 million acres of state trust land are leased for a variety of uses, including ranching and farming, renewable energy, business development, mineral development, and outdoor recreation. The State Land Office has a dual mandate to use state trust land to financially support vital public institutions, while simultaneously working to protect the land for future generations.