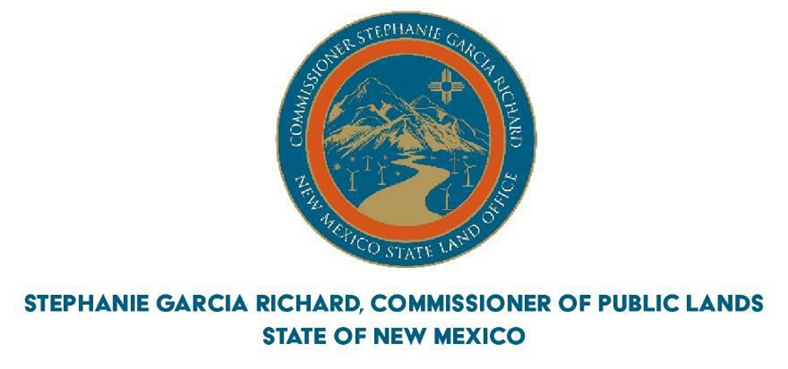 FOR IMMEDIATE RELEASE
DATE: April 13, 2022
Contact:
Joey Keefe, Assistant Commissioner of Communications
State Land Office Hires New Assistant Commissioner of Communications, Director of Constituent Services
SANTA FE, N.M. – Commissioner of Public Lands Stephanie Garcia Richard announced today that she has hired Joey Keefe as Assistant Commissioner of Communications and Francesca Di Palma as Director of Constituent Services.
"I am thrilled to welcome Joey and Francesca to the land office! Joey's background in land and conservation issues is a perfect fit for the good work we're doing here at the land office to steward our natural resources. Francesca has dealt with all manner of constituent issues including economic development and affordable housing, two primary initiatives for my administration! Their background and credentials will serve the state well," said Commissioner Garcia Richard.
Keefe comes to the State Land Office after managing communications at New Mexico Wild, a statewide nonprofit focused on public land policy at the state and federal levels. Previously, he served as Communications Director for New Mexico Secretary of State Maggie Toulouse Oliver. He has also held communications positions for private companies, local government agencies and various political campaigns. Keefe was born and raised in Albuquerque, New Mexico.
"I'm very excited for the opportunity to work for an executive officeholder who has demonstrated outstanding leadership and helped the State Land Office achieve record revenues for New Mexico's kids and families," said Keefe. "There is still a lot of work to do, and I'm ready to hit the ground running."
Di Palma most recently worked for Congresswoman Teresa Leger Fernandez as a Field Representative and Constituent Services Representative. Before that, she performed similar roles in the office of retired U.S. Senator Tom Udall. She also has substantial experience in political field organizing and community outreach. Di Palma was born and raised in Santa Fe, New Mexico.
"Commissioner Garcia Richard has surpassed even the highest expectations and it's an honor to work alongside her to provide constituents and state trust land beneficiaries with the best service possible," said Di Palma. "In my short time here, I've been impressed with how efficient and effective State Land Office team members are on a daily basis. We are committed to continuing the great work."
Commissioner of Public Lands Stephanie Garcia Richard has overseen the New Mexico State Land Office since 2019. In that time the agency has raised more than $3.8 billion for New Mexico public schools, hospitals, and universities. Over 13 million acres of state trust land are leased for a variety of uses, including ranching and farming, renewable energy, business development, mineral development, and outdoor recreation. The State Land Office has a dual mandate to use state trust land to financially support vital public institutions, while simultaneously working to protect the land for future generations.