ADVISORY
October 15, 2021
Contact:
Tarin Nix, Deputy Commissioner of Public Affairs
tnix@slo.state.nm.us
State Land Office and Powering New Mexico to Hold Renewable Energy Panel in Clayton
Public invited to listen in on important renewable energy and transmission focused conversation
SANTA FE, NM – The New Mexico State Land Office (SLO) and Powering New Mexico will be holding a renewable energy panel discussion in Clayton, New Mexico on Thursday, October 28th, 2021 from 6:00 – 8:00 pm. The panel is open to the public and will follow the state's mask mandate for indoor events.
New Mexico's Renewable Energy Future Panel Discussion Information
Panelists: New Mexico Commissioner of Public Lands Stephanie Garcia Richard, Union County Commission Chairman Justin Bennett, Josh Framel of Clearway Energy, and Jim Jontry of Ameren
Date: Thursday, October 28, 2021
Time: 6:00 – 8:00 pm
Location: Union County Administration Building, 200 Court Street, Clayton, NM 88415
The event will also be livestreamed on Facebook.com/NMLandOffice
COVID protocol will be enforced: Unvaccinated and vaccinated participants required to wear mask at this indoor event.
Shareable Event Graphic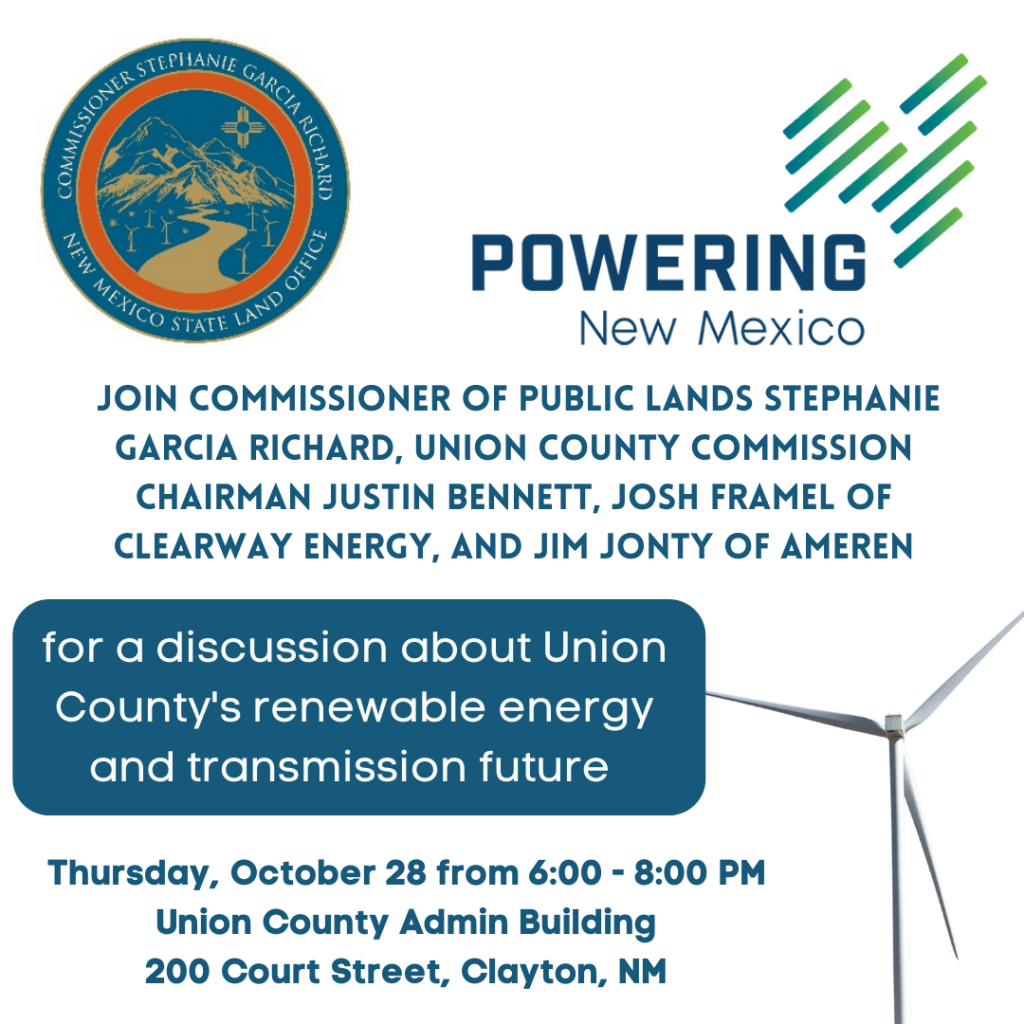 Commissioner of Public Lands Stephanie Garcia Richard has overseen the New Mexico State Land Office since 2019. In that time the agency has raised $3.4 billion for New Mexico public schools, hospitals, and universities. Over 13 million acres of state trust land are leased for a variety of uses, including ranching and farming, renewable energy, business development, mineral development, and outdoor recreation. The State Land Office has a dual mandate to use state trust land to financially support vital public institutions, while simultaneously working to protect the land for future generations.