FOR IMMEDIATE RELEASE
December 1, 2020
Contact:
Angie Poss, Assistant Commissioner of Communications
505.470.2965
aposs@slo.state.nm.us
State Land Office Releases Fiscal Year 2020 Annual Report
SANTA FE, NM – The State Land Office today released its Annual Report for Fiscal Year (FY) 2020. New Mexico state agencies are required, by December 1st of each calendar year, to report to the Governor on activities and accomplishments of the previous year. For the second FY in a row, the State Land Office has generated record revenue exceeding $1 billion.
Read the Report: New Mexico State Land Office FY 2020 Annual Report
The FY 2020 report from the State Land Office to the Governor outlines total revenue raised, earnings for each of the 22 Trust beneficiaries, changes implemented due to the ongoing Covid-19 pandemic and public health orders, priorities accomplished and ongoing, as well as a detailed overview of highlights from each of the State Land Office's leasing and operational divisions.
Commissioner Stephanie Garcia Richard released the following statement regarding the FY 2020 Annual Report:
"The State Land Office has a duel mandate – to raise revenue for New Mexico public schools, hospitals, and universities, while also working to protect and steward the nine million surface and 13 million mineral acres in our care for future generations. Our employees take extreme pride in that mission, and the information within this report reflects that pride.
"In addition to detailing the amount of revenue raised from land leasing activities, this report outlines our efforts to implement a culture shift in the legacy of the State Land Office. While a large portion of our revenue comes from and will continue to come from oil and gas, we are taking targeted measures to ensure accountability exists within that industry. That culture shift also reflects the enormous strides taken to reach the goal of diversifying our revenue streams by tripling the amount of clean, renewable energy generated on state trust land – and I'm pleased to say we are on track to exceed that goal in FY 2021.
"Finally, this report paints a huge picture for the reader of all of the effort that goes into running New Mexico's only state agency that operates as an enterprise on behalf of the working families of the state. The efforts laid out page by page tell the story of how we are able to save New Mexico taxpaying households an average of $1,500 annually that would otherwise be required in order to fund our vital public institutions."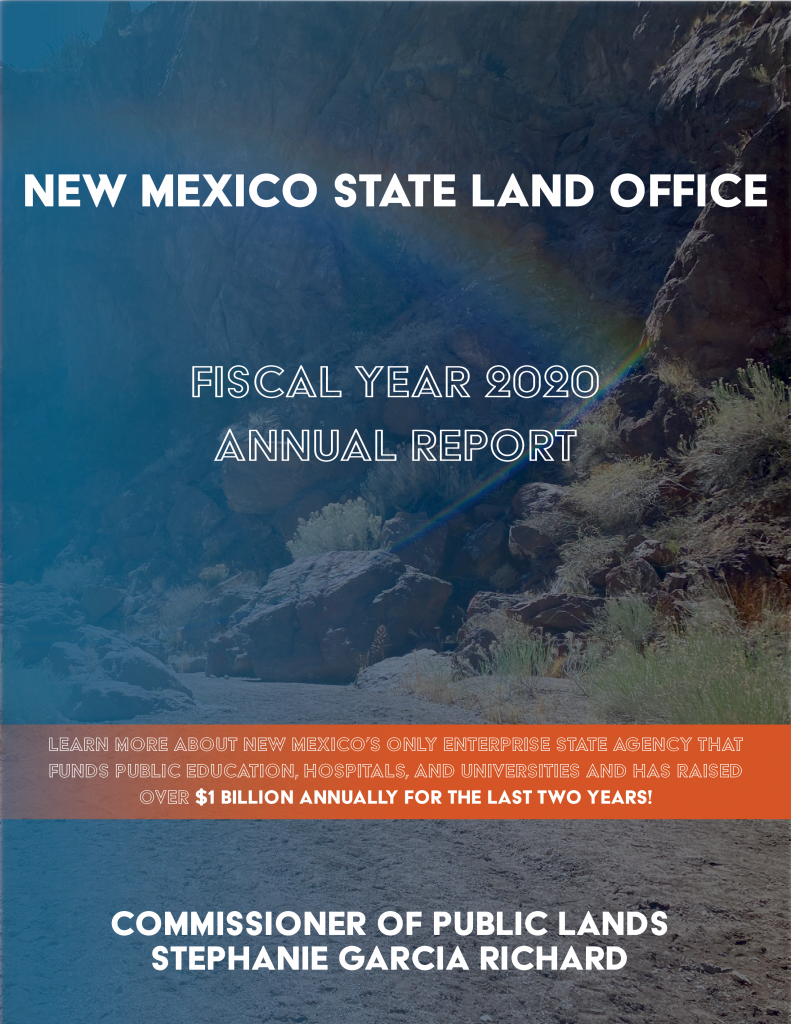 ---
Under the leadership of Commissioner of Public Lands Stephanie Garcia Richard, the New Mexico State Land Office has seen back-to-back years of revenue over $1 billion. Over 13 million acres of state trust land are leased for a variety of uses, including ranching and farming, renewable energy, business development, mineral development, and outdoor recreation. The money earned from leasing activity supports 22 beneficiaries – New Mexico public schools, seven universities and colleges, the School for the Deaf, the School for the Blind and Visually Impaired, three hospital, water and land conservation projects, and public building construction and repair.