FOR IMMEDIATE RELEASE
December 1, 2020
Contact:
Angie Poss, Assistant Commissioner of Communications
505.470.2965
aposs@slo.state.nm.us
State Land Office Inks Affordable Senior Housing Project at Central and Eubank State Trust Land
SANTA FE, NM – In response to calls from the community to address legacy issues on East Central Avenue in Albuquerque, including dilapidated vacant structures and repetitive trespassing, the State Land Office in January, 2020 held an auction for a 1.88 acre parcel of state trust land located near Central Avenue and Eubank Boulevard. Luminaria Apartments – a subsidiary of the Greater Albuquerque Housing Partnership (GAHP) – won the auction to develop the area at 10600 Central Avenue SE.
The lease, signed by Commissioner Stephanie Garcia Richard, lays out plans for Luminaria to construct an L-shaped building approximately 68,000 square feet in size with four stories. Once construction is completed, the Luminaria Senior Community will consist of 92 one or two bedroom units serving low income seniors (55+), with rents fixed for between 30 and 60% of the average medium income (AMI).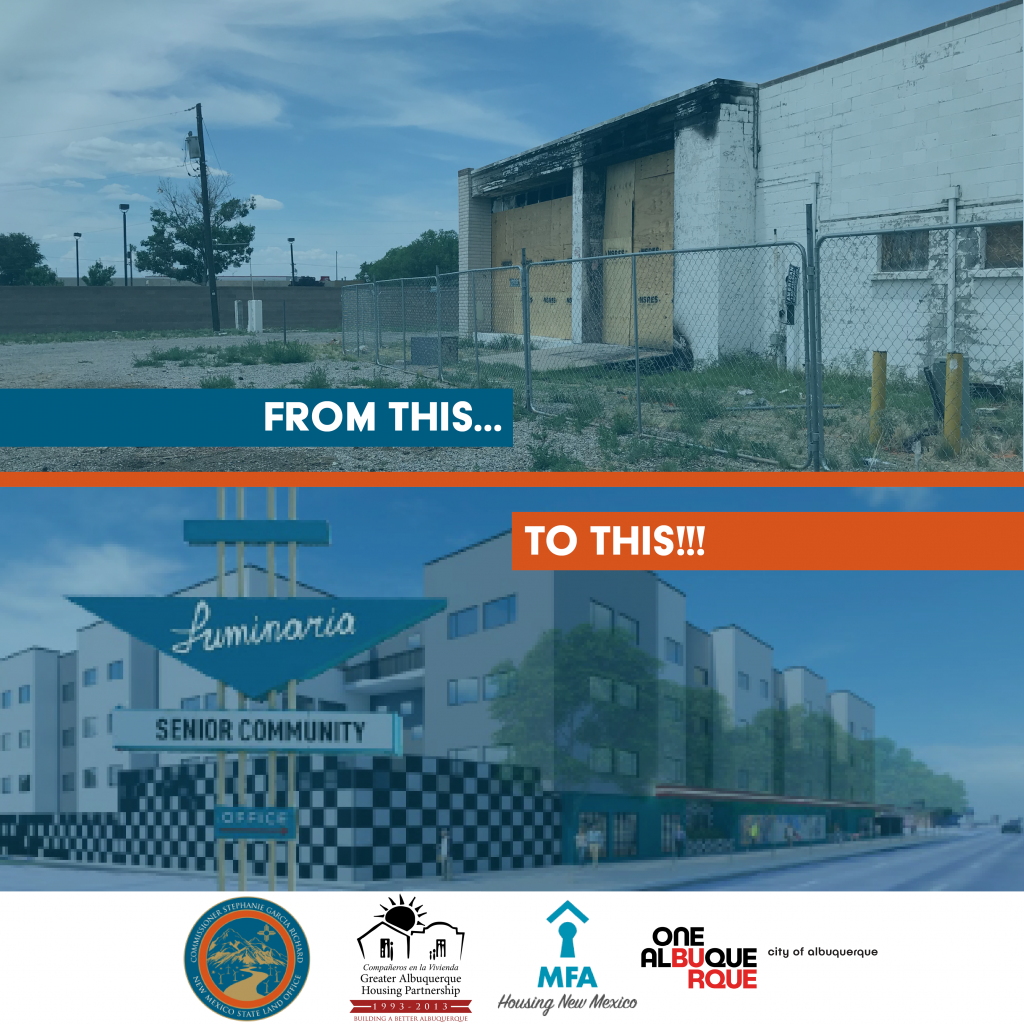 GAHP applied for and received low income housing tax credits (LIHTC) through the New Mexico Mortgage Finance Authority (MFA). Several subsequent hearings before the City of Albuquerque Development Review Board required additional easements between Luminaria and the State Land Office for development of sidewalks, a future bus shelter, as well as a water meter. The Development Review Board approval process has been completed and the project is moving forward.
"Turning around some of our state trust land properties in the Central and Eubank area is a high priority, and this affordable senior housing project is part of that turn around," Commissioner Garcia Richard said. "By working with Luminaria and partners, we are going to help serve a population that is growing and in need of affordable housing options, all with the added benefit of raising revenue for the beneficiaries of our state trust land – in the case of this project, our New Mexico public schools."
According to the U.S. Census, by 2030 New Mexico will move from 39th in the nation to 4th in the nation in the percentage of the population which is people older than 65. This project will be the only senior living space within half a mile of Albuquerque's Manzano Mesa Multigenerational Center, one of two multigenerational centers in the city.
"The Luminaria project will be a catalyst project in helping to redevelop the Ponderosa Clubhouse into an active senior community," states Felipe Rael, Executive Director of the Greater Albuquerque Housing Partnership. "We look forward to the residents taking advantage of all of the amenities in the area including the Manzano Mesa Multigenerational Center. Our organization is committed to Building a Better Albuquerque through development of award winning affordable housing projects targeted for working families and seniors. We envision the lease negotiated through this process to be a template for future affordable housing developments on state trust land throughout New Mexico."
The Luminaria Senior Community site is located in a city-wide target area for transit-oriented development which encourages development within a quarter mile of Central Avenue, and is in a high opportunity area meeting the City of Albuquerque's goal to distribute affordable housing into areas with greater access to transportation, services, employment and educational opportunities.
"Partnerships like these are critical to meeting the needs of some of our most vulnerable populations," Lisa Huval, Deputy Director of Housing and Homelessness for the City of Albuquerque said. "We were pleased to make $3,248,123 in HUD funding available for this project to ensure that 22 units will be HOME-designated and will meet HUD affordability requirements."
Luminaria will provide on-site social services, walking paths, and flexible fitness spaces, thanks in large part to an $11.4 million tax credit award from the New Mexico Mortgage Finance Authority.

"We know that public-private partnerships are key to creating successful affordable housing in New Mexico," said Isidoro Hernandez, Executive Director of MFA. "The work that the agencies and organizations involved with the Luminaria project are doing will have a lasting impact on our community and on the lives of the seniors who will call Luminaria 'home.' MFA is honored to be a part of this important development."
Luminaria intends to begin construction in early January, 2021. A groundbreaking ceremony will be determined at that time in accordance with public health orders related to the COVID-19 pandemic. Under the leadership of Commissioner of Public Lands Stephanie Garcia Richard, the New Mexico State Land Office has seen back-to-back years of revenue over $1 billion. Over 13 million acres of state trust land are leased for a variety of uses, including ranching and farming, renewable energy, business development, mineral development, and outdoor recreation. The money earned from leasing activity supports 22 beneficiaries – New Mexico public schools, seven universities and colleges, the School for the Deaf, the School for the Blind and Visually Impaired, three hospital, water and land conservation projects, and public building construction and repair.