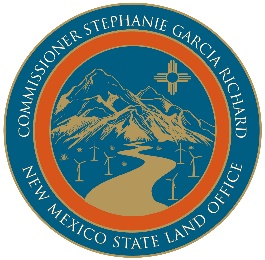 Stephanie Garcia Richard, Commissioner of Public Lands
State of New Mexico
FOR IMMEDIATE RELEASE
August 11, 2020
Contact:
Angie Poss, Assistant Commissioner of Communications
505.470.2965
aposs@slo.state.nm.us
State Land Office Holding Virtual Public Meeting Regarding Silver City Area Restoration Project
SANTA FE, NM – The New Mexico State Land Office invites the public to a meeting to learn about and give feedback on a restoration project in Silver City that will affect the Maude's Canyon area.
The Maude's Canyon restoration project seeks to restore desired conditions within a riparian corridor on state trust land that is currently supporting non-native, invasive plants such as Siberian elm, Russian olive, and salt cedar. Invasive species will be removed to improve ecological function and favor native species such as willow and cottonwood.
Additionally, adjacent meadows will be restored that have been threatened by juniper expansion. The desired conditions will provide increased flexibility for fire suppression and management if necessary due to close proximity of homes and businesses. Secondary outcomes will include a more diverse plant community including grasses, forbs and shrubs and enhanced habitat conditions for wildlife.
"I was raised in Silver City and I understand how engaged the public is, especially when it concerns the pristine outdoor spaces in and around the city" Commissioner of Public Lands Stephanie Garcia Richard said. "We want the public to participate in this meeting so that we can hear their feedback on the project as well as to inform people of how the project work might affect them."
The virtual meeting will be held on Zoom. Information can be found here.
Under the leadership of Commissioner of Public Lands Stephanie Garcia Richard, the New Mexico State Land Office has seen back-to-back years of revenue over $1 billion. Over 13 million acres of state trust land are leased for a variety of uses, including ranching and farming, renewable energy, business development, mineral development, and outdoor recreation. The money earned from leasing activity supports 22 beneficiaries – New Mexico public schools, seven universities and colleges, the School for the Deaf, the School for the Blind and Visually Impaired, three hospital, water and land conservation projects, and public building construction and repair.