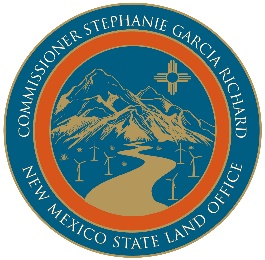 Stephanie Garcia Richard, Commissioner of Public Lands
State of New Mexico
FOR IMMEDIATE RELEASE
July 7, 2020
Contact:
Angie Poss, Assistant Commissioner of Communications
505.470.2965
Commissioner Garcia Richard Signs Agreement with Central New Mexico Audubon Society, Efforts for Expanded Outdoor Recreation on State Trust Land Moving Forward
Trail and Clean Up Project at Melrose Woods Birding Site Completed
SANTA FE, NM – The New Mexico State Land Office has completed project work at Melrose Woods, a world-renowned birding area in Roosevelt County, approximately ten miles west of the Village of Melrose. The Land Office worked with the Central New Mexico Audubon Society (CNMAS) and a contractor to complete site clean up and trash removal, improve a visitor parking area, and craft a general trail structure.  The Land Office and CNMAS continue to work with the agricultural lessee to develop a project plan focused on restoring native vegetation, providing reliable water sources, and developing educational signage. Before and after pictures can be found below.
Melrose Woods serves as a stopping-off point for a vast array of migrating birds. The spring and fall are typically aflutter with winged visitors and the venue is a well-known haven for birders from within the state and from coast to coast. The Woods hosts a wide variety of migratory and resident birds, including the majestic barn and great horned owls, among over 250 other species.
"New Mexico has unlimited potential to grow opportunities for outdoor recreation on state trust land and beyond. By partnering with CNMAS to revamp this site, we are hoping to bring new life to the Melrose Woods, an already popular spot for our nation's birders," Commissioner Garcia Richard said. "This is a small part of our larger outdoor recreation efforts at the Land Office. We've hired the first ever outdoor recreation program manager, and he is working to forge similar partnerships for recreation enthusiasts who want accessible climbing and bouldering, hiking and biking, camping and glamping – you name it, and we are working to bring opportunities to grow the outdoor recreation economy on state trust land."
The State Land Office has signed a five-year business lease with CNMAS for maintenance of Melrose Woods. Under the lease, CNMAS will provide public access, develop and implement stewardship plans for the site, and construct an on-site visitation kiosk, procure and place other signs as needed, and work in partnership with the Land Office in executing the plans.
"CNMAS is excited to be working alongside the State Land Office and the agricultural lessee in an effort to restore bird habitat, create better access, enhance educational and recreation opportunities, and build lasting partnerships to assure stewardship of the land for generations to come," added Robert Munro, CNMAS Board Member and Melrose Woods Project Coordinator.