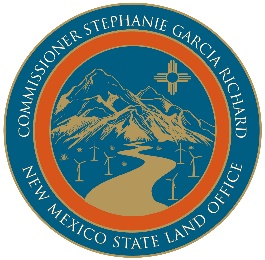 Stephanie Garcia Richard, Land Commissioner
State of New Mexico
FOR IMMEDIATE RELEASE
June 26, 2020
Contact:
Angie Poss, Assistant Commissioner of Communications
505.470.2965
Commissioner Garcia Richard Declines Signature of Programmatic Agreement with U.S. Customs and Border Protection: "The Land Office Won't Give Cover to Border Abuses"
SANTA FE, NM – Commissioner of Public Lands Stephanie Garcia Richard today declined to sign a renewal of a Programmatic Agreement between the New Mexico State Land Office and U.S. Customs and Border Protection (CBP). In declining to sign the Agreement, Garcia Richard sided with nearly three dozen New Mexico based community organizations and individuals that signed onto a letter urging her not to work with CBP because of their "history of discriminating heavily against people of color at our nation's southern border in the name of national security."
The Agreement claims to establish a process and create coordination mechanisms for CBP to use while surveilling New Mexico's southern border including hundreds of acres of state trust land. Specifically, the Agreement states that CBP will try to work with other agencies in an attempt to prevent damage or destruction to cultural properties along the border on state trust land, Tribal land, and elsewhere. The nearly 80 page document is riddled with loopholes and ultimately gives CBP total control over its activities on the border.
"The Agreement, on its face, seems to send a message that CBP cares about avoiding sacred Indigenous sites. But no agreement or Federal process kept CBP from destroying an Indigenous burial site in Arizona for construction of the border wall," State Land Office Tribal Liaison Rachael Lorenzo said. "The Land Office has no faith that CBP will consult our office in a meaningful way, and by leaving New Mexico Pueblos, Tribes, and Nations out of the Agreement entirely, they confirmed what we already knew – it's not in our best interest to enter into any agreement with CBP under this administration."
CBP failed to include in the Agreement many tribes in New Mexico and other states who have stated cultural ties to Dona Ana, Hidalgo, and Luna Counties. Those tribes include the Mescalero Apache Tribe, Isleta Pueblo, Tesuque Pueblo, Fort Sill Apache Tribe, Kiowa Tribe of Oklahoma, Ysleta Del Sur Pueblo, White Mountain Apache Tribe, Navajo Nation, Comanche Nation, and the Hopi Tribe.
"True consultation should include all tribal governments that have expressed cultural ties to border lands. We know consultation is not the actual intention of this document and the Land Office won't give cover to border abuses," Commissioner Garcia Richard added. "In not signing this Agreement, we stand with our Tribes, Pueblos, and Nations, we stand with immigrants, who have had the border weaponized against them, we stand with basic human dignity and we refuse to support CBP's operations on the southern border or construction of the border wall."