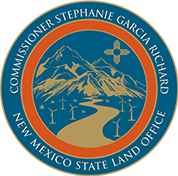 FOR IMMEDIATE RELEASE
May 12, 2020
Contact:Angie Poss, Assistant Commissioner of Communications
505.470.2965
Morgan Pitts, Communications Manager
Avangrid Renewables
503.933.8907
morgan.pitts@avangrid.com
Avangrid Renewables Breaks Ground on 35,000 Acres of State Trust Land At La Joya Wind Farm
State Land Office dedicated to building New Mexico's renewable energy future
SANTA FE, NM – Construction has begun on 35,000 acres of state trust land for the La Joya Wind Farm in Torrance County, located about 10 miles west of the Village of Encino. The project includes a mix of private land and state trust land, the latter was awarded to Avangrid Renewables by Commissioner Stephanie Garcia Richard through an open bid process in September of 2019. When completed, the project will consist of 111 turbines and have a total generating capacity of 306 megawatts (MW). The portion sited on state trust land will include 74 new wind turbines capable of generating a total of 207 MW.
The project is expected to be in operation by the end of 2020. Once operational, the output of the La Joya Wind Farm will be delivered to the Public Service Company of New Mexico (PNM). The wind farm will help PNM and other voluntary companies meet their climate and sustainability goals. As work proceeds on site, crews are practicing social distancing and other recommended best practices to reduce risks associated with COVID-19.
"There are hundreds of thousands of acres of state trust land prime for renewable energy generation, and this project in partnership with Avangrid Renewables, PNM, and their customers really highlights our potential as a state to become a powerhouse for America's renewable energy future," Commissioner Garcia Richard said. "Over the lifetime of the La Joya project, we will raise over $41 million for New Mexico public schools. We are meeting our charge of supporting our beneficiaries with an eye toward diversifying our state's revenue streams, and renewable energy can play an important role in that diversification."
The La Joya Wind Farm is the second Avangrid Renewables project in New Mexico. The adjacent El Cabo Wind Farm, which has a capacity of 298 MW and consists of 142 Gamesa 2.0 and 2.1 MW turbines became operational in December of 2017.
"We are excited by the progress at La Joya and our growing footprint in New Mexico," said Alejandro de Hoz, President and CEO of Avangrid Renewables. "We have enjoyed a long and positive relationship with the New Mexico State Land Office and are pleased to partner with them on this project to build more clean energy capacity and support New Mexico's public priorities."
"PNM is excited that construction started at the La Joya Wind Farm. This wind resource amplifies the great renewable potentials in New Mexico. When integrated with our wind, solar and battery storage, PNM is well underway to not only meet the state's emissions-free mandate but well positions us on the path to 100% carbon free by 2040," said Tom Fallgren, Vice President PNM Generation.
Commissioner Garcia Richard's commitment to renewable energy includes her creation last year of the first ever Office of Renewable Energy at the State Land Office. That office is currently working to process over 40 applications for new solar and wind energy projects. When processed, these applications will help the Land Office exceed goals of tripling the amount of energy generated on state trust land through renewable projects.
Support for the La Joya Wind Farm project includes New Mexico's Governor and members of the Federal Delegation.
U.S. Senator Tom Udall
"I applaud Commissioner Garcia Richard and Avangrid Renewables for their leadership in moving this important project forward that will create jobs, support our communities, and help diversify New Mexico's economy. The Southwest is rich in renewable resources like wind and solar, and New Mexico has the potential to be at the epicenter of America's clean energy economy. We can get there by harnessing the potential of our state's lands to be part of the transition to a more sustainable energy future. The start of construction on the La Joya Wind Farm is an important example of what can be achieved when states, elected officials, local communities, and the broader business community step up and come together to build a better future and safeguard the planet for the next generation."
U.S. Senator Martin Heinrich
"This major wind project is yet another example of how the clean energy industry will continue to be one of the fastest growing parts of New Mexico's economy for years to come. I commend State Land Commissioner Stephanie Garcia Richard, PNM, and Avangrid Renewables for all the hard work that led to this historic groundbreaking. Especially in these challenging economic times, the jobs this project will create will make an enormous impact. I will keep doing everything in my power to support the growth of our state's clean energy economy. Continuing our momentum and cementing New Mexico status as a world leader in clean energy is one of the surest ways to attract private capital and create good paying careers in communities all across our state."
Congresswoman Deb Haaland, New Mexico's 1st District
"New Mexico is home to incredible renewable resources including a vast amount of wind in Torrance County, but like many New Mexicans, I'm baffled about why we haven't seen this area developed until now. Under the leadership of Commissioner Stephanie Garcia Richards, our Land Office is investing in renewable energy, which is something I've been advocating for in Congress. I'm pleased to announce this new job creator is coming to Torrance County and I'll continue working to ensure New Mexicans are prepared for the good paying jobs that come with the renewable energy revolution that we're bringing to our state."
Governor Michelle Lujan Grisham
"This project exemplifies New Mexico's smart use of public resources to create a sustainable economy and move us down the path toward a clean energy future. The lease negotiated by the State Land Office is a win-win for the people of New Mexico: It puts our public lands to work raising money for schools and helps diversify our economic portfolio."
Oil, gas, and mineral production, ranching and farming, and commercial development on State Trust Lands support public schools, seven universities, New Mexico Military Institute, New Mexico School for the Deaf, New Mexico School for the Blind and Visually Impaired, three hospitals, correctional facilities, water conservation projects, and public building construction and repair. In fiscal year 2019, the State Land Office collected $1 billion from lease payments, oil and gas lease sale earnings, rights-of-way, permits, interest, fees, and oil, gas and mineral royalties.
***The State Land Office is closed to the public while remaining open for business following Governor Michelle Lujan Grisham's orders for employees to work from home and adhere to social distancing of six feet or more if working in an office setting. Essential operations that continue include royalty collection and distribution, leasing needs including renewable energy, rights of way, agriculture, and oil and gas. In these uncertain times, the beneficiaries of state trust land – our public schools, hospitals, colleges, and other vital institutions – rely on the Land Office to continue raising revenue for their operational budgets.***
About Avangrid Renewables: Avangrid Renewables, LLC is a subsidiary of AVANGRID, Inc. and part of the IBERDROLA Group. It is a leading renewable energy company in the United States, owning and operating a portfolio of renewable energy generation facilities primarily using wind power. IBERDROLA, S.A., is an energy pioneer with the largest renewable asset base of any company in the world. Avangrid Renewables is headquartered in Portland, Oregon. For more information, visit www.avangridrenewables.com.
About AVANGRID: AVANGRID, Inc. (NYSE: AGR) is a leading, sustainable energy company with approximately $35 billion in assets and operations in 24 U.S. states. With headquarters in Orange, Connecticut, AVANGRID has two primary lines of business: Avangrid Networks and Avangrid Renewables. Avangrid Networks owns eight electric and natural gas utilities, serving more than 3.3 million customers in New York and New England. Avangrid Renewables owns and operates a portfolio of renewable energy generation facilities across the United States. AVANGRID employs approximately 6,600 people. AVANGRID supports the U.N.'s Sustainable Development Goals and was named among the World's Most Ethical Companies in 2019 and 2020 by the Ethisphere Institute. For more information, visit www.avangrid.com.