FOR IMMEDIATE RELEASE
March 4, 2020
Contact:
Angie Poss, Assistant Commissioner of Communications
505.470.2965
aposs@slo.state.nm.us
Commissioner Garcia Richard and New Mexico Game Commission Sign Hunting Agreement
State Land Office Lowers Price Tag for Department of Game and Fish, Expands Hunting Access on State Trust Land, Creates Pilot Dispersed Camping and Backpacking Programs in High Use Areas, Increases Hunter Scouting Period from 7 to 14 Days
SANTA FE, NM – Today the New Mexico State Land Office (SLO) and the State Game (GC) Commission signed an easement agreement that allows hunters and sportspeople with a valid license through the Department of Game and Fish (DGF) to access 8.8 million acres of state trust land.
For easement access, DGF will pay the SLO $800,000 – a decrease of $200,000 in up-front cost in comparison to the last four years under the previous Land Commissioner. Over the course of the easement, DGF will partner with SLO for $200,000 worth of projects aimed to enhance sportsperson access to state trust land. Projects can also be done to improve wildlife habitats.
Other improvements to the easement are based on feedback the SLO received from sportspeople across the state and are aimed at enhancing the hunting experience in New Mexico. They include:
 A pilot program for dispersed and roadside camping
 A pilot program for backpacking
 An increase in the number of days hunters are allowed to scout on state trust land from 7 days to 14 days
 A provision that the Commissioner consult with the DGF Director prior to using her authority to withdraw land from the easement.
"I am committed to improving the hunting experience in New Mexico. Over the last year I have heard from sportspeople across the state about how we can do that," Commissioner Garcia Richard said. "This easement represents a starting point for addressing concerns about increasing access, mixed use of lands and the conflicts that arise from certain mixed uses, and the creation of a pilot program for hunters that want to see more camping and backpacking opportunities on state trust land."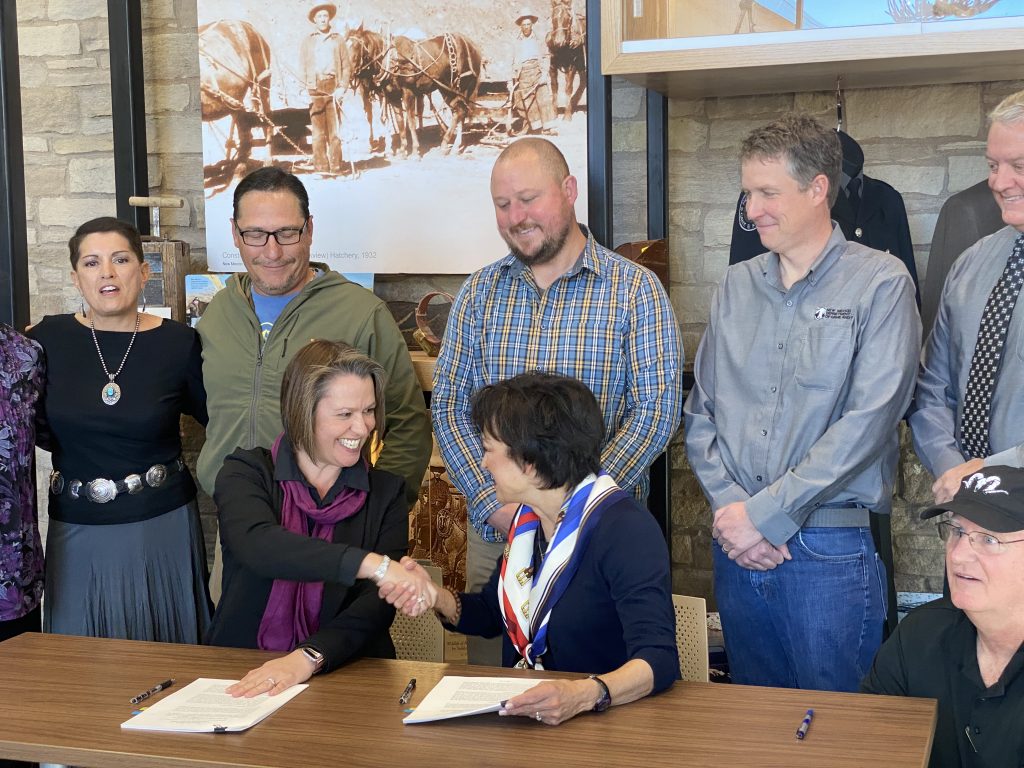 For years, camping on state trust land for hunters has only been allowed in a small number of designated areas. The new pilot program will be used to assess how to best move forward with more permanent opportunities for licensed hunters to camp on those lands.
Game Commission Vice Chair Roberta Salazar-Henry applauded the collaboration between the Land Office and the Department of Game and Fish to reach unanimous agreement on the easement.
"We have so much in common that we want to do and achieve on state trust land. We have the same publics that we want to have on our side, and we need them to stand up for the integrity of state trust lands," Salazar-Henry stated at the meeting.
The easement calls for the SLO and DGF to agree upon unitization of state trust land and private or federal lands in an effort to increase the amount of land where hunting is allowed and to decreased conflicts with private land owners or state land office lessees where trespassing is problematic. The agreed upon unitization increases the number of accessible state trust land acres available to hunters through the term of the easement.
Oil, gas, and mineral production, ranching and farming, and commercial development on State Trust Lands support public schools, seven universities, New Mexico Military Institute, New Mexico School for the Deaf, New Mexico School for the Blind and Visually Impaired, three hospitals, correctional facilities, water conservation projects, and public building construction and repair. In fiscal year 2019, the State Land Office collected $1 billion from lease payments, oil and gas lease sale earnings, rights-of-way, permits, interest, fees, and oil, gas and mineral royalties.